Do you have any suggestions for meals on the 4 Cycle Solution?
Posted by , Last modified by on 20 November 2015 02:20 PM
Do you have any suggestions for meals on the 4 Cycle Solution?
Yes, there are many options for meals on the 4 Cycle nutrition plan.
Shaun has created so much flexibility into the program it allows you to fit the meal plan into your current routine easily and allows you to create more of a lifestyle than a diet.
What you get in each Cycle Nutrition plan are meal planners that include a set of meal types based on what foods to include each meal. You also have a list of approved foods for each category (Protein, Vegetable and Healthy Fats) so you know what you have to choose from.
This makes it easy to substitute foods as well, based on your preferences or any dietary restrictions.
If you still feel you need more than this, such as specific meals for each day and how to make them, then you make be interested in the 4 Cycle Meal Plan Package. This will give you exactly what to prepare for each meal and a complete recipe book for all of the suggestions. You can check this offer by clicking the following link: http://www.4cyclefatloss.com/meal-plans-sa.php
So you can get an idea of what the meals look like and what is included in the meal plan pack, here is a sample of the meals that you would be using: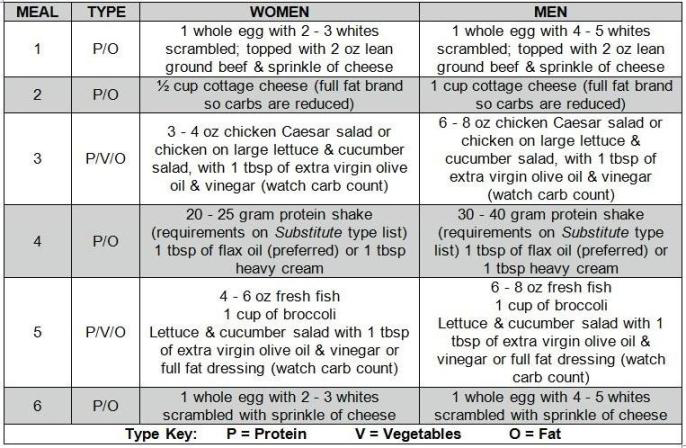 Hopefully this helps you get started with your meals and shows you what the combinations look like so you can make any needed adjustments and set up meals that work for you.
If you need any further assistance with this or anything else please contact our Customer Support Specialists who will be more than happy to help you. Contact them at: support@getleanin12.com
Thank you and enjoy!
- Customer Support Staff
---